Community Manager
Elvenar Team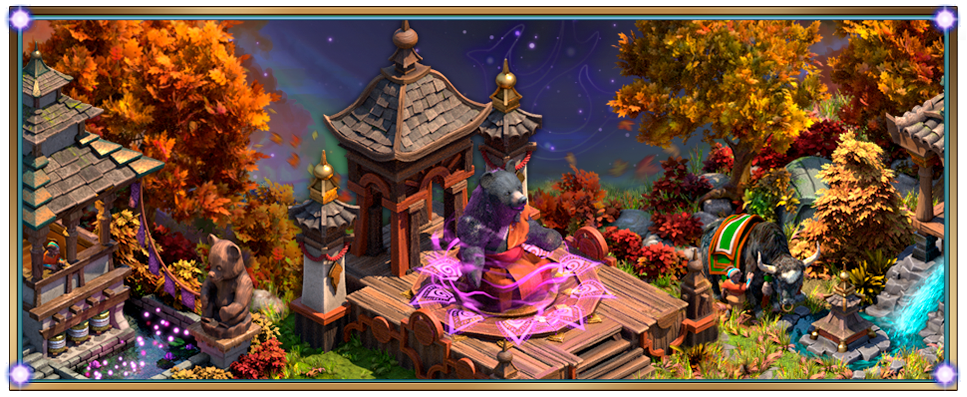 Dear Humans and Elves,
The Zodiacs of Autumn have formed again, and with the magic of Kirit (Weasel God of Night Fruit) and Krarak (Bird God of Sun Harvest) a new link to the divine realm has been established. This year, the wise and mighty Moon Bear will join his three Bear brothers. Will you be able to please the Gods and harness all his powers? It's time to celebrate Autumn again, together with Glisal, the centaur who visits every year to accompany you during this magical season. Help him fulfill his quests and he will help you raise your new bear cub to a strong and mighty beast.
Between
now and September 9th
you can solve Glisal's quests to gain Golden Keys, which you can use to access Spheres containing Daily Exclusive rewards and other prizes, including brand new buildings and some returning buildings from previous Autumn events. By unlocking Spheres, you will also acquire Stardust which lights up the stars in the night sky and brings clarity to the constellations that guide you towards the Grand Prizes. Golden Keys can also be found in the surroundings of your city.

Amongst the Grand Prizes of this event, you will find Moon Bear Artifacts, which you can use to grow your very own Moon Bear that this event will bring to your city:

(3x3, bonuses depending chapter and stage, gives Knowledge Points when fed with Pet Food)
​
As in previous events, the quest line consists of a story section and additional episodic quests, which start as soon as the story is completed. This means that you will be able to finish the first series of quests right away, while later quests have new additions released on a daily basis, allowing you to continue to play 1 additional event quest on each new event day.
We wish you a lot of joy with the Autumn Zodiac Event and would love to hear your feedback in our
discussion thread!
Kind regards,
Your Elvenar Team

Disclaimer: Please keep in mind that there can always be differences in event layouts, balancing and prizes between Beta and Live release. App version 1.111 is required for the event to function properly. This app version is released separately from the event.