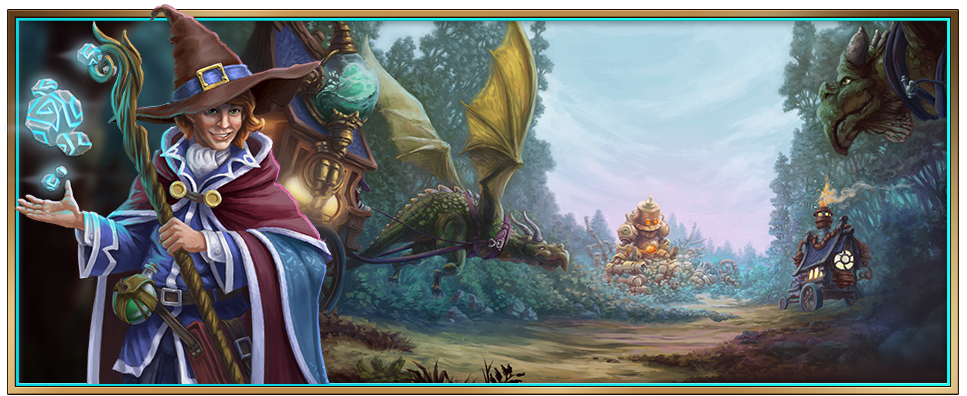 Every year, sorcerer apprentices go on a long journey in order to close perilous crevices and gain knowledge.
They are guided by Sorcerer Zaphiel on this pilgrimage.

All sorcerers, regardless of their rank, were lured astray from the main group on their previous pilgrimage by a mysterious voice they heard in their heads. This resulted in Zaphiel finding the Forbidden Ruins, which hovered over a giant crevasse where the sorcerers were heading.
Many questions emerged at that time, that Zaphiel tried to solve with Melissa and Tandriel.
But since the safety of the sorcerer's apprentices was from utmost importance, the Forbidden Ruins were left unexplored and the source of the voice remained undiscovered.

This time, Zaphiel takes the chance to solve the question, still hearing the voice coming from the Forbidden Ruins to that day.​
The voice in Zaphiel grows louder and louder while he searches the ruins
.
As he approaches the center of the Forbidden Ruins, the voice silences and Zaphiel finds an inanimate metal figure lying on the ground.
As if on their own, his hands begin to repair what is revealed to be a Golem.

After completing his work with the help of the sorcerer's apprentices, the Golem awakes: "Hello Zaphiel, I've been calling to you"
Dear Humans and Elves,
Join Zaphiel and help him uncover the Steam Golem's
Secrets of Alchemy
! It's certain that the fantastical discoveries you're about to find in this event will become handy for you!
You will have time
from January 3rd until January 26th January 24th
to collect as much Sorcerers' Knowledge as possible!
One way to gain this valuable currency is to complete the event quests given by Zaphiel. The questline consists of a story section and additional episodic quests; these quests begin as soon as the story is completed. As a result, the first set of quests can be completed right away, but additional quests are added on a daily basis, allowing you to play 1 more event quest on each new event day.
Progressing in the quests will grant you Sorcerers' Knowledge, while unlocking special rewards after reaching milestones on the way! Get rewarded with Sorcerers' Knowledge by visiting your city on a daily basis, or find it around your city's borders.
Just for the experience of visiting your town on a daily basis, you will be rewarded with some knowledge every day already, and you'll even gain knowledge by investigating random magical appearances in your city's outskirts.

The big highlight of this event is the new exclusive Evolving Building, the
Steam Golem
!

4x4 - Culture, Population, Sentient Goods, Unurium, and Combining Catalyst depending on Chapter and stage
​
On the 15th milestone of the Grand Prizes lane, you'll receive a tome that lets you choose between the
Steam Golem
or the
Wise Golem
!
Every second milestone will then reward you with another tome that contains the Artefacts of these two.
We will also introduce you to a new expiring building that is exclusive for the Royal Prize Pass:
Mana Rune
!
It's inside a Tome, so players who have no Mana yet can choose the Goods of their Chapter instead.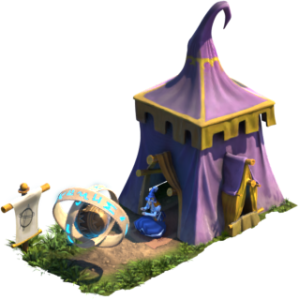 1x2 - Culture & Mana Production boost for 15 days
​
But that's not all! The
Sleepy Titan
, an expiring building that produces Broken Shard's, has its comeback on both prize lanes!
And do you remember the building set of Forbidden Ruins, last year's Sorcerers' event?
Gold and Silver league players can get a Tome to complete the set if they're missing a building!
Lastly, Avatar collectors will have to reach the 14th milestone of the Grand Prize lane to gain this event's avatar reward!
We hope you'll enjoy the Secrets of Alchemy and looking forward to your feedback in our
discussion thread
!
Kind regards,
Your Elvenar Team

Disclaimer: Please keep in mind that there can always be differences in event layouts, balancing and prizes between Beta and Live release. App version 1.166 is required for the event to function properly. This app version is released separately from the event. In addition to that, please note that the final day of the event spans more than 24 hours, in order to not have the event end during the night (CET). That means the Daily Exclusive on January 24th is the final Daily Exclusive reward that is also available for some more hours in the morning (CET) of January 25th. No new event quest is added to the quest line on January 25th, the final Quest Milestone can be unlocked on January 24th.
Last edited: