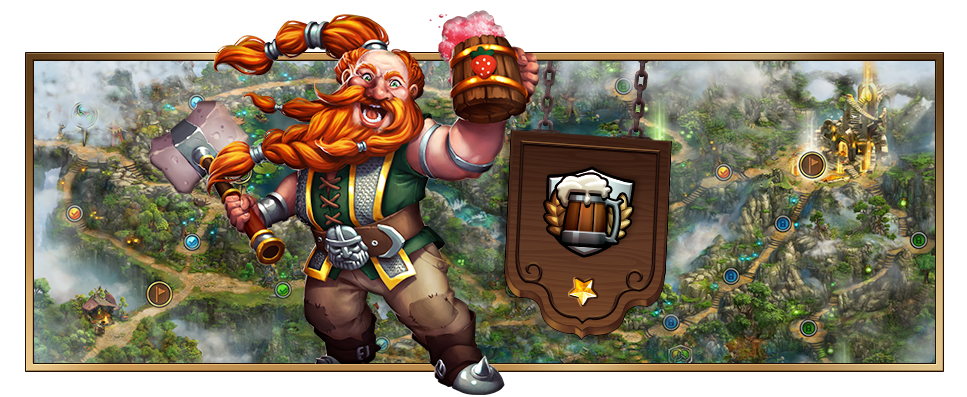 Dear Humans and Elves,
Or should we say: "Dear Adventurers"? Because from now on, your Fellowship is counting on
you
to tackle new adventurous challenges! Please join us in our latest feature: The Fellowship Adventures!
What are Fellowship Adventures?
Fellowship Adventures is our first big Multiplayer Event in Elvenar! Together with your Fellowship you work towards common goals. Reaching them will benefit the whole Fellowship and in the end the Fellowships that perform the best, will even get additional rewards based on their position! The Fellowship Adventures will run for about a week each and we're planning on running them regularly. The Fellowship Adventures will bring whole new and exciting game mechanics to Elvenar.
If you're a member of a Fellowship and a Fellowship Adventure is running, you will see a banner when you're in your town: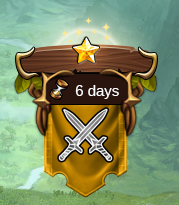 Clicking on this banner, will open the Fellowship Adventures map: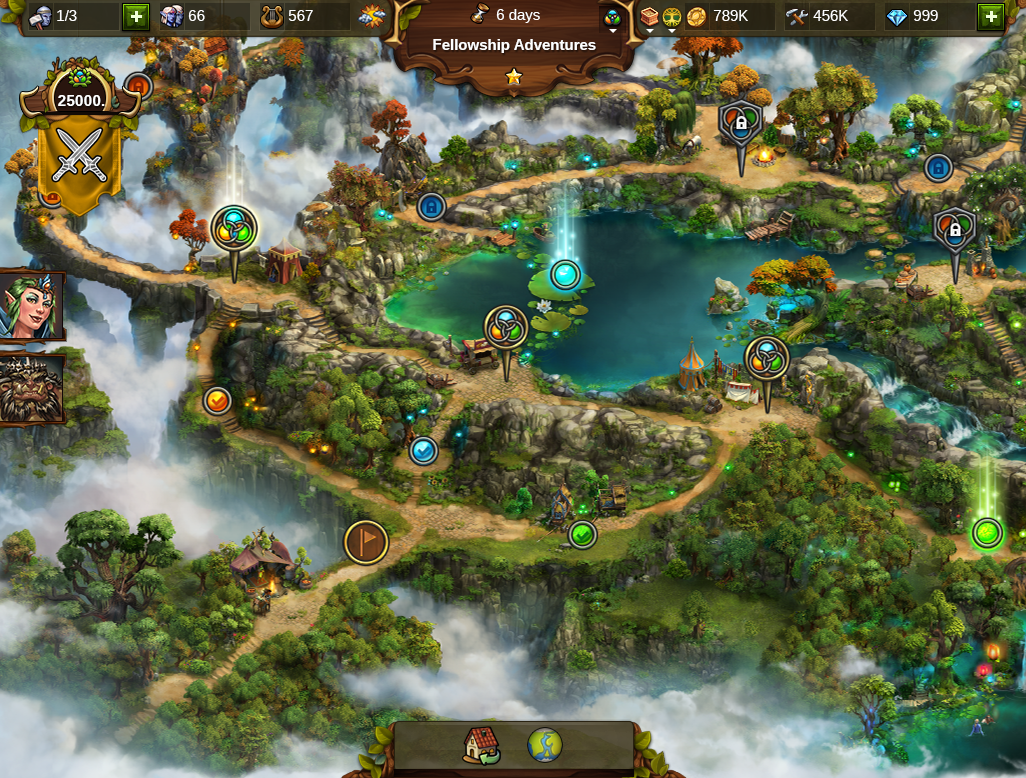 ​
On this map you see several
Waypoints
(blue, orange, green), each with their own requirements to get passed them. All Fellowship members can contribute to these requirements and once they are met, they will open the way to the next Waypoint.
Some strategical Waypoints, like you can see above, will confront you with
3 different paths
to choose from. Discuss with your Fellowship and choose wisely: Will you battle? Rather pay goods? Like to make productions? It's up to you and your Fellowship which way suits your game style!
At the end of each stage there is a "big reward" waiting for you. Unlocking that reward will grant a very nice reward to all Fellowship Members
who have contributed something
to that stage of the Fellowship Adventures. Also: Picking up that reward will automatically let you (and your Fellowship) move on to the next stage. Therefore, only members with the rank of Ambassador or higher will be able to unlock that next Waypoint. It's a decision that should be taken carefully, because it also means you won't be able to get any more Fellowship Adventures Ranking points for Waypoints that haven't been cleared in this stage.
Wait! Fellowship Adventures Ranking points?
That's right! This is also a new mechanic that will come with the Fellowship Adventures. These ranking points are temporary, which means that they only count to decide your Fellowships place
in this Adventure.
After this Fellowship Adventure, the rewards will be handed to the top Fellowships - The Adventure Ranking Points will be put back to 0 and that's where everybody will start from in the next Fellowship Adventure. So each Adventure, every Fellowship has the same possibilities from the start again. Depending on the Fellowships position at the end of the Adventure, some permanent Guild Ranking points will also be added.
Adventure Items
Adventure Items are a new
permanent
event resource which will be needed for the reoccuring Fellowship Adventures. They have no further function than to be used to complete certain Waypoints and they are obtained from doing certain activities in the game. For example: Producing X number of beverages will give you a Dwarven Brewery Badge (Adventure Item) and producing X number of bread will give you a Bakers Guild Badge (Adventure Item). This means it will really come down to the activity of all the Fellowship members to be able to complete all the Waypoints and make your way to the top. You can see your current amounts of Adventure Items by hovering over the Fellowship Adventures icon on the top of your screen when you're in the Fellowship Adventures map.
Here is a list of Adventure Items and their requirements: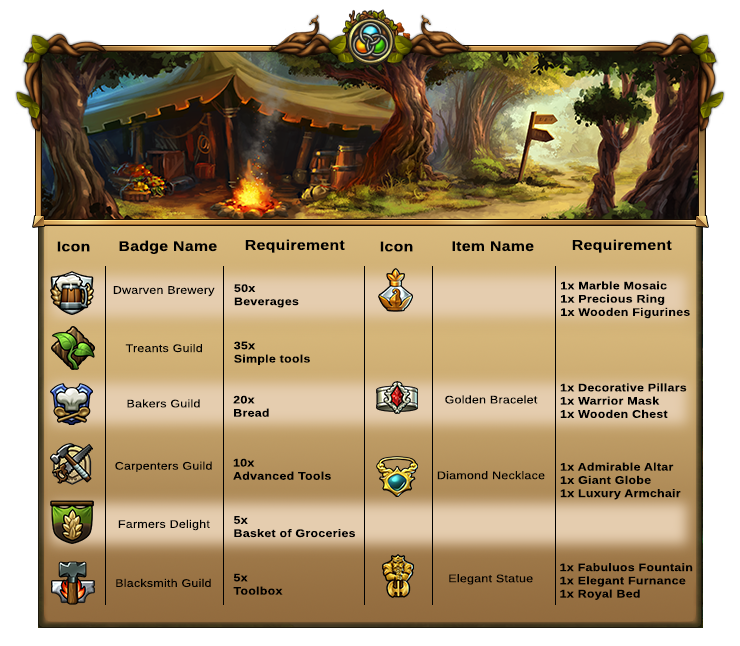 Aditionally:
Wand -
Gain 1 good enchantment and gain X planks (based on chapter)
Magic Potion -
Gain 1 NH enchantment and gain X elixir (based on chapter)
Witch Hat -
Gain 1 Supply enchantment, gain X silk and gain X magic dust (based on chapter)
Wonder Society -
Invest X KP in another player's Ancient Wonders
Elvarian Guard -
Recruit X units
Sack of Coins -
Gain X coins
Quests
Some Fellowship Adventures will come with their own specific questlines as well. Please do keep in mind that this will not be the case for all occurrences of the Fellowship Adventure. Each adventure will be different: Different requirements, different rewards, different setup!
Bottomless Pit
Last but not least: For the really active Fellowships, we also bring the "Bottomless Pit". It will be activated when the last reward is collected in the last stage of the Adventure and it will look like this: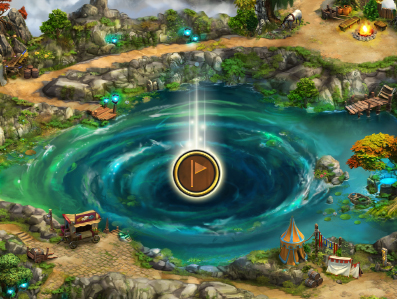 ​
Infinite reoccuring bottomless pits will be spawn by the game one after another, each with their own pay-in requirements. Active guilds can use these to obtain extra Fellowship Adventure ranking points - making them end up higher in the ranking for that adventure and therefore getting them more valuable end rewards.
Well, this is it for the main description of this brand new event. We'd like to invite you to try it out and are of course very interested in hearing your feedback about it in
this thread
!
Kind regards,
Your Elvenar Team
Last edited: