Upcoming Tournament changes
Dear Humans and Elves,
With the Tournament starting on
July 14th
, we will be introducing some major changes to the Tournaments on Beta. We're making these changes because we want the Tournaments to be less repetitive and easier to understand for especially newer players, while at the same time improving the difficulty calculations and adding more challenges for those Fellowships that regularly complete all 10 available Chests. We believe these adjustments will bring positive changes to the Tournaments, but also show further positive effects for the whole game, e.g. by having more balanced Goods requirements for Catering, meaning there's a lower chance that the resources you might need are hard to come by in the Trader, simply because other players don't all require these same Goods in the current Tournament anymore. Furthermore, researched (optional) Squad Size Upgrade technologies will no longer make Tournament participation more expensive.
Fewer Tournament Encounters per Province
One of the most noticeable changes when first starting to play the new Tournaments is that you can Cater or Battle directly from the World Map, without having to enter a Tournament Province. To achieve that, we have merged all 4 Tournament Encounters per Tournament Province into one, bigger Encounter. The costs for the 1 Encounter are more or less the same as were required to solve 4 Encounters be in the old Tournaments, and the same amount of Tournament Points are reached when completing a Province. With these changes, we lower the amount of clicks required to complete Tournament Provinces significantly, which we believe will help make the Tournaments less repetitive and more convenient to play.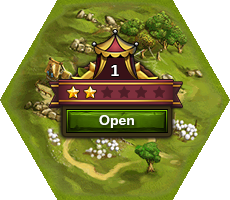 Further adjustments
In addition to the more visual changes described above, we will also make changes to the way the Tournaments are balanced. There will be changes to both Catering as well as Battles, with the main goals being a fair Tournament for all, an easier entry into the Tournaments especially for newer players (but which will also affect even the most veteran Tournament players), and also providing a challenge more specifically targeted at the aforementioned veterans, who already have the ability to play vast amounts of Tournament Provinces each week.
To achieve this, we will rework the way the costs in Tournaments are calculated. Up until now, they were directly linked to your Squad Size, meaning that any Squad Size Upgrade technology, both the mandatory and optional ones, would result in higher costs. This will be abolished and instead we will base the costs on a series of progression factors, which involve city development and researches in general. However, one key difference is that we want to ensure that every progression factor will still bring you more in benefits, than it would "cost" you in terms of added costs in the Tournaments. This means that, while the progression in the Tournaments becomes more costly as your city grows over time, the increase is nowhere near the amount of resources the progressed city will be able to produce extra thanks to the progress made.
Catering
We want to make Catering a more viable option in the Tournaments. We found that especially those players who manage to complete hundreds of Tournament Provinces each week are able to do so because Unit production is much quicker and cheaper than obtaining the resources to meet the costs to Cater. To make Catering worth considering, we will (roughly) halve the costs for it, meaning you'll need fewer Goods to complete a Province. Remember, though, that we are merging 4 smaller Encounters into 1 big Tournament Province Encounter, so the costs seen in the Catering window will still be higher than you were previously used to.
One major change to the Tournament costs is that we will be less strict with which Goods the Tournaments ask for a given Tournament type. Where in the old version e.g. a Planks Tournament would require mostly Planks (plus Silk and Gems) to Cater, requirements will always be different with these changes. We do this for several reasons, the most important ones being that we would like to offer a solution to the community feedback we've received about certain Goods types being drained and hard to come by in the Trader, which was made worse by the costs of the Tournaments. By randomly selecting the costs over all the Tournament types from a pool of predefined Goods, we hope that there'll be fewer shortages of specific Goods in a given week. The Goods that
can
be asked for will also change slightly, as we will start requesting Coins and Supplies, but also e.g. Mana. These requirements are based on your Chapter, so that you'll never find yourself in a situation where you're unable to accumulate the required Goods for a Tournament. We'll even make sure that the Goods are only required one Chapter later than they've been first introduced to you, so that you won't have any shortages in that Chapter, meaning you can focus on and get used to their production during that time, which should be especially helpful to new players. Sentient Goods will never be requested for the Tournaments, as we know these are scarce as is, and we don't want to add to that by including them in the Tournaments' Cater costs.

Battle
In addition to Catering, we are also streamlining the Battle difficulty, to make battles significantly easier at first, becoming progressively harder the higher the Province number gets. This change will be much more noticeable in the later provinces. The goal is to make the entry into the Tournaments easier for newer players, providing more of a Challenge to veteran players, while also ensuring the Tournaments remain fair, regardless of progress.
To achieve this, the enemy will now always come to the battlefield with 5, instead of varying numbers of Squads. This will make the difficulty easier to understand, as it allows for a more direct comparison between your own and the enemy's Squad Sizes and composition. Additionally, the enemies will become more randomized. This means that
some
strategy will go into finishing lots of Tournament Provinces again, rather than re-using the same setups with only small variations for every single battle, for hundreds of battles on end. We aim to offer a bigger challenge, while also keeping the Tournaments interesting, and less repetitive. As an added bonus, it also means that you'll be able to use more of your own Units over the course of the Tournament, instead of using only a few select types in a given week.
And last but not least, the difficulty of a Tournament Province will no longer exclusively increase for each
level
of the Tournament, but now also with each
Province
, albeit with a less steep increase. By doing this, we are making the Tournaments easier at the start, when not many Provinces have been completed yet, while adding additional challenge for those who wish to progress deep and far into the Tournaments. This is illustrated in the graphic below: The figure on the left shows you the old difficulty progression, whereas the middle and right show the new. In the figure on the right we've highlighted the area from Provinces 6-1 and 1-6 to Provinces 20-1 and 15-6 to indicate the provinces that will fall into (roughly) the same difficulty as in the old Tournaments. As you can see, the difficulty doesn't increase until you are really far into the Tournament (roughly 5000 points' worth), which is typically reached only by the most hardcore and veteran Tournament players, for whom we intend to offer more of a challenge.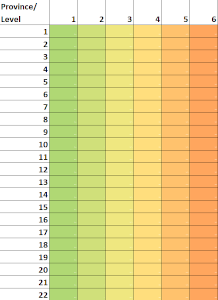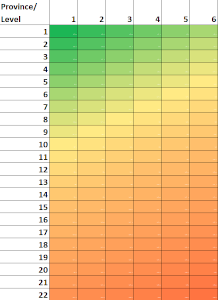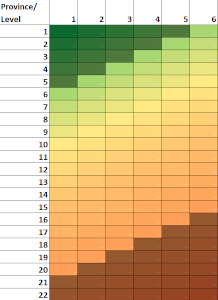 In summary
, we will make the earliest Encounters easier than ever before. The ramp-up of the difficulty will be much smoother, meaning it comes only in higher Tournament Provinces, and we will make those later Tournament Provinces more difficult to keep providing a challenge to those who can and want to do hundreds of Provinces within a week.
Tournament Bonus Chests
But, we're not done yet! In addition to all of the above, we will also add an additional 9 Bonus Chests to the Tournaments that can be opened after the initial 10 Chests have been completed by a Fellowship. This Bonus stage, once entered, will show a new overview, where the 9 Bonus Chests are displayed. The total rewards of the first 10 Chests will be summarized and accessible also on this overview, as a tooltip on the leftmost chest that represents the summarized previous stage.
The Bonus Chests are increasingly more difficult to achieve, and we don't expect that a Fellowship will be able to complete all of these Bonus Chests consistently right after we release them, they are intended to be a long-term challenge after all. But we do want to offer the possibility for those who'd really want to go for it to give it a shot and see how many chests they can reach. Each of the Bonus Chests contains 1x Royal Restoration, as well as 1x Ancient Knowledge 10.

Still to come
In the coming weeks and months we still plan several smaller improvements to the Tournaments in addition to these changes, such as making it possible to skip the time using Booster Instants or Diamonds for a Tournament Province cooldown directly from the Tournament Overview window. So while most of the changes are part of the initial Beta release, there are still a few things to come. More information on that as they arrive!
And that's the full list of changes that will come with the next Tournament on Beta. We're very curious to hear your thoughts on them. In case you're not entirely sure on what it all means, Andreas, Rike, and Steffi will walk you through all of the changes in this video:
The changes will become available on Beta with the Tournament start on
July 14th
- please check them out and leave your comments in the
discussion thread!
Kind regards,
Your Elvenar Team