Community Manager
Elvenar Team
Proposing Trader star rating changes
Dear Humans and Elves,
Over the years, we've received a fair amount of feedback regarding the star rating in the Trader being inaccurate for cross-tier trades (for example: trading Marble for Crystal). In an effort to more accurately depict the ratio, we would like to propose the following change. But, before we do, we would like to have your feedback, so please read on and don't forget to share your thoughts!
Current system
In the current system, a trade is considered to consist of equally valuable Goods (2 stars) for:
A ratio of 1:1 for trades within a tier (Marble/Planks/Steel for tier 1, Crystal/Scrolls/Silk for tier 2, Elixir/Magic Dust/Gems for tier 3; and also applies to the respective Sentient Goods).
A ratio of 4:1 for cross-tier trades if the difference is 1 tier (e.g. Marble for Crystal or Crystal for Elixir).
A ratio of 16:1 for cross-tier trades if the difference is 2 tiers (e.g. Marble for Elixir).
However, this ratio does not reflect
all
costs to create these Goods, thus suggesting a value that doesn't match reality. For example, the respective size of a required Manufactory is not taken into account. Effectively this boils down to 1 Elixir being worth a lot less than the 16 Marble it's advertised for.
Proposed changes
In an attempt to make the system more fair, by more closely reflecting the actual value of traded Goods in the star rating, we would like to adjust the ratio required for a 2-star ("fair") trade. Instead of the current 4:1 ratio, we would like to lower this to a ratio of 2:1 or even 1.5:1. This would still not reflect the exact value of the Goods 100% accurately, but it would be a lot closer than the current 4:1 ratio. Reaching 100% accuracy unfortunately will not be achieved for two reasons:
the ratio differs slightly between tiers, causing different numbers between tiers 1 and 2, and tiers 2 and 3; and
we want to offer a "round" number, to allow for an easier calculation on how to score a certain trade.
The real numbers we calculated are close to 1.5:1 for both trades between tiers 1 and 2, and tiers 2 and 3, but we would be happy to offer a ratio of 2:1 if that makes calculating amounts easier for you.
Important: we are only looking to change the visualization of how "fair" the trade is as expressed in stars. We do not seek to restrict freely trading resources for another ratio if you like, just like you already can in the current system. The minimum and maximum ratios will remain as they are in the current system.
This could look something like this in the Trader, examples are with the 1.5:1 ratio: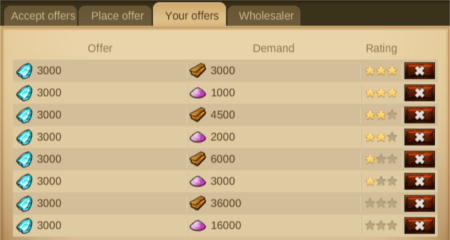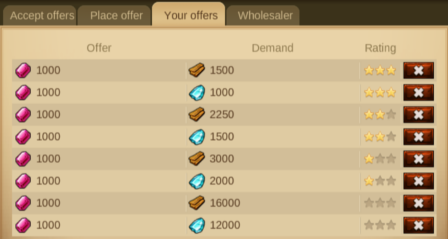 Why this change, and not (also) something else?
We are very aware that there is additional improvement potential for the Trader, and that there are numerous requests to also change e.g. the way trades are sorted, or adding more filters to that you can find the trades you're looking for easier, but that is not what we attempt to address with these changes. What we intend to achieve with this change is resolving one of the main issues with the Trader: removing the perceived fairness of cross-tier trades while they are not in fact fair. We believe the rating on cross-tier trades to be misleading, which is harmful to new and veteran players alike. By making this rating more accurate, we hope to achieve several goals, among which the most important would be:
Provide a more accurate estimation of how valuable certain Goods are.
This will in turn help in all kinds of ways. For example:
It'll be easier for all players to recognize if a trade is more or less fair.
Some players calculate their own trade ratios based on varying factors. These changes would make that less necessary (but of course it would remain possible if you wish to do so).
It'll help new players tremendously, as they will be able to learn the real value of their Goods much easier.
It'll help sort the less attractive trades to the bottom of the Trader window, making them less prominent in everyone's view.
Before we apply these changes on Beta, we would like to hear your feedback on them. Please head over to the
discussion thread
, and let us know what you think! Would this be a good first step towards resolving problems with the Trader? Is the ratio itself OK for you, or do you think we should use another? If so, what would you propose, and what would be your reason(s) for that? Did we miss something that is important for you?
Let us know, so that we can improve Elvenar together!
Kind regards,
Your Elvenar Team