Community Manager
Elvenar Team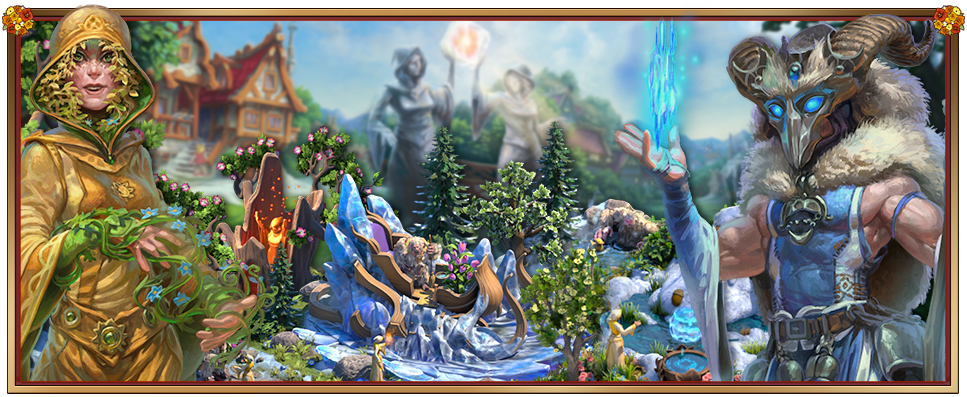 Dear Humans and Elves,
With the winter coming to an end, the Spring Cultists and the Winter Shamans come together once more. The two groups work together once per year to secure the safe transition of the seasons, making sure creatures and living beings are cared for in times of change. This time however, the Yetis are proving to be a big challenge. With large numbers, and many younglings, the journey to colder lands becomes hard and perilous for them. If only someone could mediate the troublesome relationship between the cultists and the shamans, and bring back the Everblossom Sleigh to carry the Yetis to safety...

By fulfilling event quests, logging in daily and searching the outskirts of your city, you can earn
Candy,
which is used to open Chests. Opening the Chests not only grants you with a reward (and a chance on some nice daily exclusive prizes), but will also give you Flags, which move you closer to your next Grand Prize goals. Among these Grand Prizes you can find some great expiring buildings and
Carnival Artifacts
. The Carnival Artifacts allow you to evolve this event's special building, the
Everblossom Sleigh:

(4x4, Culture, Population, Coins and more bonuses depending on Chapter and Stage)
​
The questline consists of a story section and additional episodic quests, which start as soon as the story is completed. This means that you will be able to finish the first series of quests right away, while later quests have new additions released on a daily basis, allowing you to continue to play 1 additional event quest on each new event day. Fulfilling the event quests will also grant you Milestone Rewards at certain points along the way.
The event will run from today until
February 15th
, so you'll have plenty of time to enjoy the festivities in your city. We wish you a lot of fun with our Elvarian Carnival event and would love to hear your feedback about it in our
discussion thread!
Kind regards,
Your Elvenar Team

Disclaimer: Please keep in mind that there can always be differences in event layouts, balancing and prizes between Beta and Live release App version 1.120 is required for the event to function properly. This app version is released separately from the event. In addition to that, please note that the final day of the event spans more than 24 hours, in order to not have the event end during the night (CET). That means the Daily Exclusive on February 15th is the final Daily Exclusive reward that is also available for some more hours in the morning (CET) of February 16th (CET). No new event quest is added to the quest line on February 16th, the final Quest Milestone can be unlocked on February 15th.
Last edited by a moderator: